CEO'S MESSAGE 2020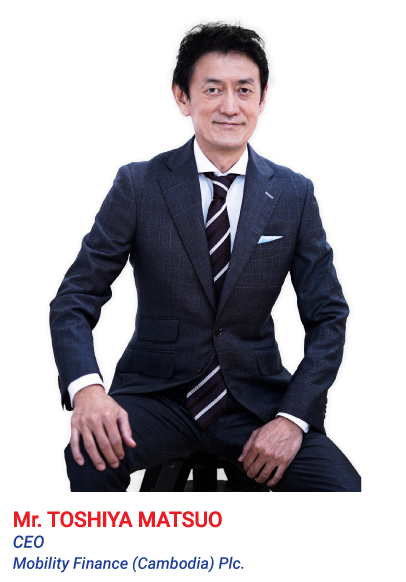 Cambodia is one of the most developing country
Among developing countries, Cambodia is a one of the fastest growing country with GDP per capita more than 3,000 USD in the capital city Phnom Penh as of 2019 and motorization started to emerge in the country. Therefore, people's demands to own a car are increasing.
Affordable and high-quality cars
Our car leasing service enable delivering affordable and high-quality cars. As a one of Japanese companies that values quality and service, we would like to contribute to Cambodia by delivering good condition cars and good services such as car maintenance services and insurance services, with speedy services and low interests. We sincerely hope that our customers will be satisfied with our services and products.
Our vision
Our vision is to provide new financial services with innovative ways in Cambodia so that people can move forward to new and better lifestyles.
Our staff working to fulfill our mission
Mobility Finance's mission is to accelerate motorization in Cambodia while focusing on customers in Phnom Penh. The important resources to fulfill our mission are our staff. Our staff always make their best to support customers when customers need. For example, if there is a customer who looks for a car but does not know about price of car, condition of car, etc., our staff who have technical knowledge and skills support and provide proper information which help customer find it easier to select car. We have commitments to serve the customers with only transparent information related to leasing services.
The attitude regarding the credit evaluation is as same as above services. Sometimes customers don't know how much they can afford to pay with a lease, we discuss payments with customers, offer advice, and make payment schedules to enable monthly payments.
Massage to our staff
I would like our staff to consider Mobility Finance as a platform where they can grow as well as improve their abilities. Also, Mobility Finance has friendly environment where we can work together. I expect staff members to challenge in order to develop their career as well as humanity.
Responsibilities of CEO
Looking back on my own career, from working experiences of 25 years in South East Asia, what I have been focusing on is how to make local people grow in terms of economic and career. When considering this point, I think that there are 4 responsibilities that are important in order to do business abroad:
Hire many employees to increase employment rate
Create new businesses
Earn more income and pay more tax
Contribute to education on human resource
Overcoming this situation together
During the past few months, the COVID-19 pandemic has affected us all. We understand that our customers are facing some unprecedented and challenging times. I believe that we can overcome this situation together. We will continue to assess this situation and hope this situation will be back to normal soon.